I am planning on two levels of archival protection: each individual album in a safe, archival polyethylene bag, then the whole shebang (actual art history / conservation term, that) in an archival storage box.
My goal is to keep dust, moisture and household pollutants away from these priceless heirlooms and artifacts, all the while making them easy to both retrieve and open to look through. There is no need to bury such albums in layer upon layer of even the finest archival materials, as the whole point is to safely store them while still allowing easy access. Pull one out at Thanksgiving to show to family and friends and you'll know what I'm talking about.
Easy (Yet Important) Hack: Notice that none of the archival bags in these photographs are sealed and/or airtight. This is done on purpose, as family photo albums are made up of all sorts of materials—some good and some not so much. The point is that I want these albums to be able to "breathe" while in storage, rather than being sealed tight. This is a good thing, so you do it too. Added bonus: I won't have to fight with getting something open, and its easy to put it all back together again to return it to storage when I'm finished.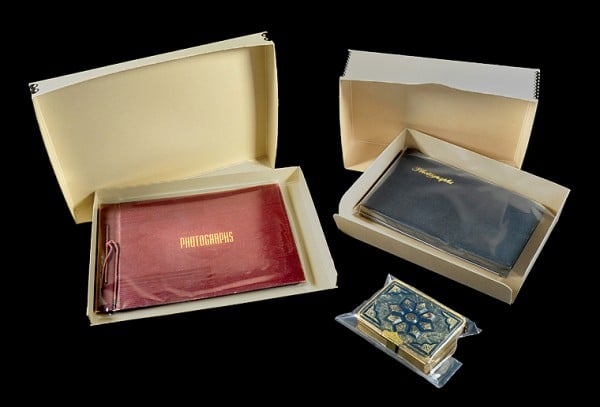 Boom! Family photo albums in their individual bags in correctly sized acid-free boxes. As long as each album is in its own bag I am free to place multiple albums in each archival box.
Speaking of archival boxes, they come in a variety of color and sizes to match any decor or individual taste. Gotta love that. If that weren't enough, each of the high quality metal edge boxes pictured here are made by a team of three people (shout out to Penny, Sharon and Dan) who have a collective 83 years of combined experience in the art / craft / alchemy of making darned good archival boxes – right here in the good ol' U.S. of A. Just sayin'.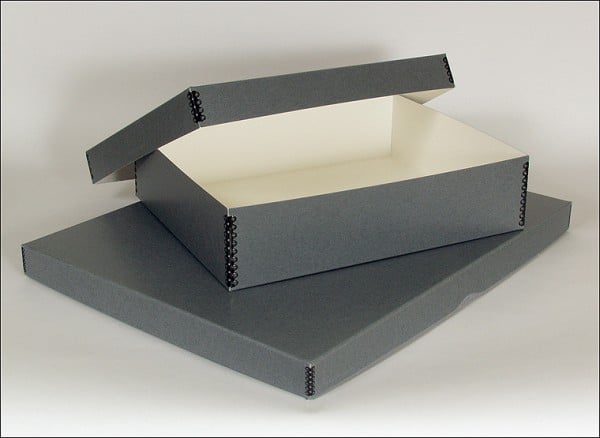 High-quality archival boxes in different depths allow me to custom-fit what I'm trying to correctly store.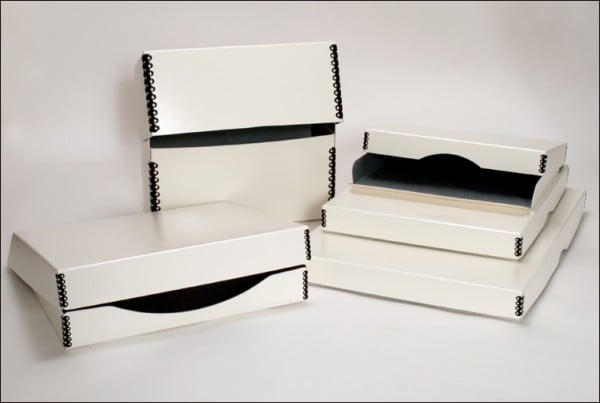 More styles / sizes / depths, available in four different colors, too.
While a number of the boxes pictured above have removable tops that allow them to "telescope" in order to create additional vertical storage space in each box, the velvet album discussed above was thicker than standard flat photo albums, and due to its construction was not suited for compression if I were to stack additional boxes on top of it. The answer was an archival artifact box (below), which offers extra depth and thus allows this album to rest comfortably and safely without the danger of it getting squished (another sophisticated art history / conservation term), which would damage its cover and spine.