Before I begin preserving my own family's photo albums—a simple affair, really—I want to take a moment and look a just a very small sample of the zillions of different styles and formats of antique albums that exist, as you might have one of these in your own collection or family archive.
I actually collect old snapshots and family photo albums for use in elaborate art projects, so a few examples and explanations from my collection is possible. While I'm glad I have access to these albums, just WHY such priceless family records were abandoned to antique stores or eBay (or curbside trash piles) I haven't a clue. It's tragic, actually. Anyway….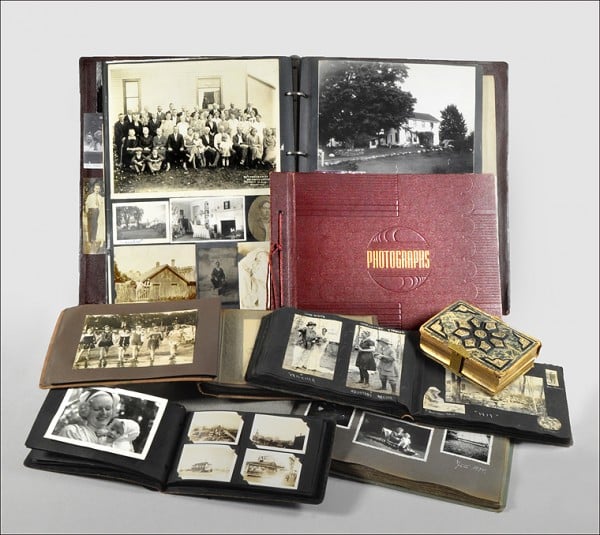 While most albums from the past are usually horizontally-oriented rectangles, many are not. Some more closely resemble scrap books, while others are as steampunk as they come. Why such artifacts, so lovingly assembled over so many years, were abandoned by their original owners and families is a mystery. I found the large scrapbook/album in the far back of the above pix, illustrated with hundreds and hundreds of identified family photographs, in a pile of trash out by the curb someplace. Don't let this happen to YOU!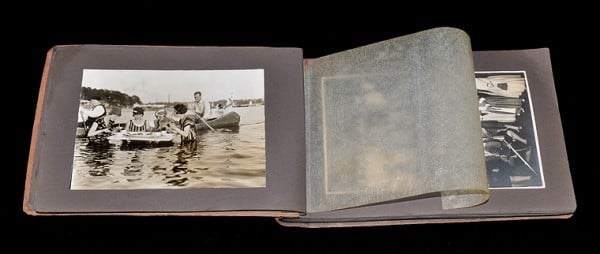 Note the interleaving sheet with a cool "spider web" pattern seperating each page in the pix above (it's curved over to make it more visible, and was of course straightened out again before I closed the album). This was done for both aesthetic reasons and to keep the photographs from abrading via contact with each other. This is usually not a problem, so there is no need for me to add new, contemporary acid-free interleaving tissue between the pages of my own family's photo albums. You don't either. If it ain't broke, don't fix it.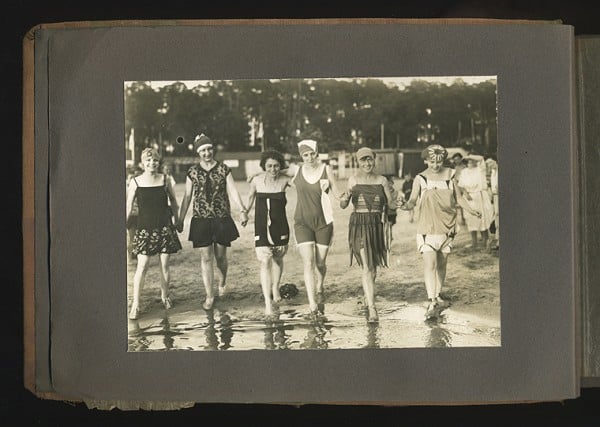 The swimsuits in these two large photographs from the abandoned German family album pictured above? They're comin' back, folks. So stylish and flattering. Yet not only do these photographs serve to illustrate the cultural aesthetic of the "Roaring Twenties" (the 1920s, click here for more info) and early-1930s, they also help to date the entire album, as it otherwise carries no hand-written dates or any other form of identification. These are the second and third photographs in the album, and the last images in the back of the same album are clearly mid-1930s.
In describing the images from the open album above I had mentioned that they were from Germany from the late-1920s through mid-1930s (ascertained from other information in the photographs themselves rather than from non-existant captions). By putting two-and-two together one quickly realizes that these care-free frolics were happening just as the storm clouds of Nazi Germany and the Second World War were gathering to eventually wash this era away forever – EXCEPT IN PHOTOGRAPHS. Frivolous moments of dopey swimsuits? Actually, with hindsight, these photographs show a poignant innocence before the entire world changed forever, especially for the German women in these photographs, their kids, their brothers, sisters, fathers, mothers, grandparents, uncles, aunts, boyfriends, girlfriends, neighbors, families, the Jews, the Poles, the Russians, the French, the Italians, the American GIs, the wives and kids left behind, and the whole rest of the world, actually. This gives new meaning to these photographs, and makes it even more important to archivally preserve them.
OK, on a happier note(!!!), here is a page from an American family photo album from the 1910-1920s. I can tell by the clothes cuz I'm such a highfalutin' expert (actually, its dated elsewhere in the album). Ever notice how EVERYONE has family photo album images just like these? This was the "vernacular" of collective photographic vision, but more on that later.